What is a Bearing Witness retreat?
"May I always have the courage to bear witness, to see the others as myself and myself as the others" is the phrase of a small ritual that the Zen Peacemakers celebrate during the Bearing Witness retreats.
Experiencing this and the wholeness of life with all its facets and shadows, all its fearfulness and joy – and not just knowing about it – as it is, is an essential practice during the retreats.
Religious affiliation or different horizons of experience do not play a role. They are interreligious and intercultural gatherings, where everyone jumps into the cold water – a "plunge" – and contributes with what they experience. The place is the actual teacher, whom we listen to, honor and experience fully, just as it is.
Bearing Witness retreats take place in what we call "hungry places." With all the people, circumstances, and nature that live in and with this place. They are places that one might prefer to avoid, or only perceive superficially. They are split-off places of this society that lie dormant like wounds in our collective and individual memory – until they are revisited, heard and integrated. It is a reconnection. Especially with the "other".
It usually takes place over several days and has a protected framework, held by some "Spirit Holders" . Within this framework, new things can arise, healing can happen. For oneself, the other, the place and the whole situation. We go back into encounter and relationship with all that is. Exactly there and in places where the circumstances are broken like single fragments, life is honored.
We are all whole – we've just forgotten it.
The Bearing Witness Retreats are based on the 3 tenets of the Zen Peacemakers
Not Knowing
Not knowing does not mean not knowing – I am willing to question my ideas, assumptions and beliefs again and again, I am willing to recognize my division into good and evil and my assumptions about how and what life is and should be as concepts. I am willing to face my experience with an open mind. This not knowing is something different than indifference. It is a humble acknowledgement that life is a miracle, that it is not perfect but complete, that all life is blessed – with its cruel and
its beautiful sides. Perhaps it is a devotion to the oneness of all life.
Bearing Witness
Witnessing means exposing oneself to life as it is, the courage to really let oneself be touched, to be there – to be the situation. It means giving up delimitation and thus opening oneself to "the other", becoming the other. It is also the recognition and integration of diversity.
Bearing witness is crying and laughing, the shock and the deep joy of the incomprehensible. It is being the incomprehensible, being vulnerable, being Mensch.
Taking Action
An action that arises out of not knowing and Bearing Witness. It arises naturally and is therefore not a " dreamed up" actionism, but appropriate to the situation. It is where compassion, power, love and knowledge arise, and where creativity arises to express these qualities in action.
Bernie Glassman, who started the Bearing Witness retreats, says about the 3 tenets:
"It's about questions. More specifically, it's about how to live a life from the spirit of questioning, a life of not knowing. If we are willing to live such a life, a life without fixed ideas and answers, we can bear witness to any situation we are confronted with, however difficult, disturbing or painful it may be. And from this witnessing comes right action: the work of peace, the work of healing."
History of Bearing Witness Retreats
In 1994, the first street retreat took place in New York. That is, a group of people spent 5 days in Central Park in winter with no money, only a wool blanket, beg for what is needed. They thought about the questions "How can I do something for the many homeless and AIDS patients and against the violence in our country?". They shared their life experiences and stories over the 5 days, these were people who were committed to eradicating poverty, hunger, disease, racism and violence around the world, most felt isolated, helpless and lonely and received little recognition or support for their work. What to do with all the courage and powerlessness in all the attempts to make a difference with no real discernible impact?
Why do we have the feeling of being separate from each other? Why do we not recognize the unity of all life and why do we not appreciate everything as it is? And through what forms of peace work can we help all beings to experience that everyone is dependent on everyone else?
Thus the Bearing Witness Reterats were born.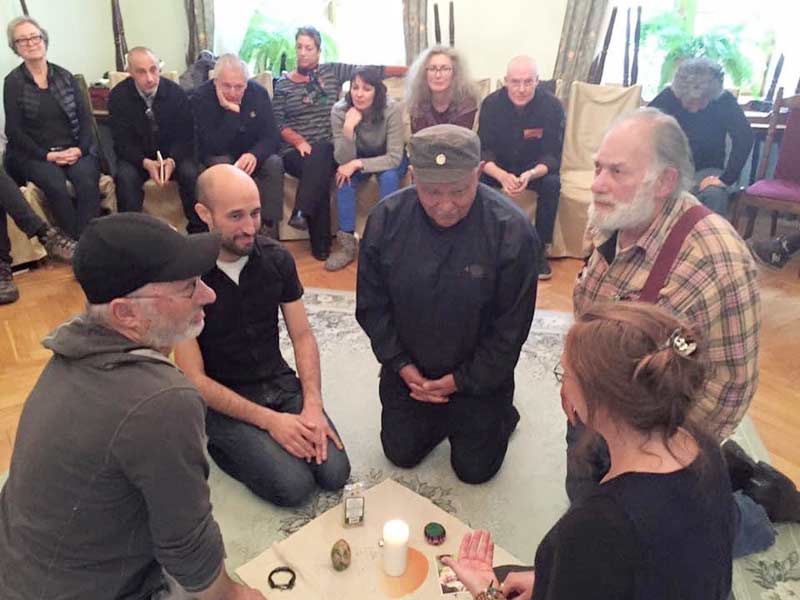 In 1996 the first group of 150 people traveled to Auschwitz, they were people from different countries, cultures and religions – among them were children of the perpetrators as well as children of the survivors, Jews, Germans, political and homosexual activists, Sinti and Roma and other representatives of different cultures. They spent 5 days together in this place of horror. Auschwitz itself is a relentless teacher, it leads people into situations in which they cannot help but learn and understand.
Since then, the Auschwitz Bearing Witness Retreat has been held every November. This year marks its 25th anniversary.
From there on, Bearing Witness retreats emerged around the world in just such "hungry places" together with guests from "all sides of the situation", interfaith and intercultural, always honoring the place and the people and all that is alive in the place – restoring their dignity by simply listening – being there and staying there:
in Rwanda, to remember the relentless cruel war and its consequences
in South Dakota, Wounded Knee and the atrocities and violence of colonization of indigenous peoples in the Americas.
in Lampedusa, a small island in the Mediterranean where many refugees are still stranded and dying.
Sarajevo – Bosnia Herzegovina to commemorate the unrelenting war between Muslims and Christians and its consequences.
Street retreats in different cities around the world (Cologne, Zurich, Helsinki,…)
Bearing Witness Reterats in other German concentration camps (Buchenwald, Ravensbrück…)
Days of Reflection at challenging places (for example the Wevelsburg, former SS training center in Germany, or in a Nuclear Power Station…)
"We can hear the cries of those who suffered here. But we can also hear the cries of all those who are suffering today somewhere in the world. And we can hear our own cries. This listening is important. Far too often we act without really hearing what is needed."
A participant from an Auschwitz retreat